Agra Climate Activist Showed The Dirt Behind Taj Mahal Shared Picture On Twitter Ann | Agra: Activist Lisipriya Kangujam showed the mess behind the Taj Mahal, took a jibe at the tourists and said
UP News: Agra is identified with the Taj Mahal, but...
UP News: Agra is identified with the Taj Mahal, but pollution is the biggest challenge for Agra. Manipur's 10-year-old climate activist Lisipriya Kangujam has shown a mirror to the Agra administration and the municipal corporation about the damage caused by pollution and pollution on the banks of the Yamuna River behind the Taj Mahal. He has shared a picture behind the Taj Mahal on Twitter which is going viral.
Lisipriya's message will make you think
With a placard in her hand, Lisipriya has photographed behind the Taj Mahal. Through this placard, he has tried to give a message about pollution, in which it is written – 'The beauty behind the beauty of the Taj Mahal is plastic.' He wrote on Twitter, 'Behind the beauty of the Taj Mahal, thank you humans! You must have seen this scene on the Taj Mahal tour. You can say that it is very polluted but when lakhs of people visit it every year, your one polythene bag, plastic water bottle has created this situation.
Plastic waste in Agra declared plastic free!
After Lisipriya's tweet, today ABP Ganga went to see the reality and came to know that this photo was taken from Dussehra Ghat behind the Taj. Even today plastic is scattered there and pollution can be seen clearly. The area of ​​Taj Mahal has already been declared plastic free but still tremendous pollution remains a matter of concern for Agra.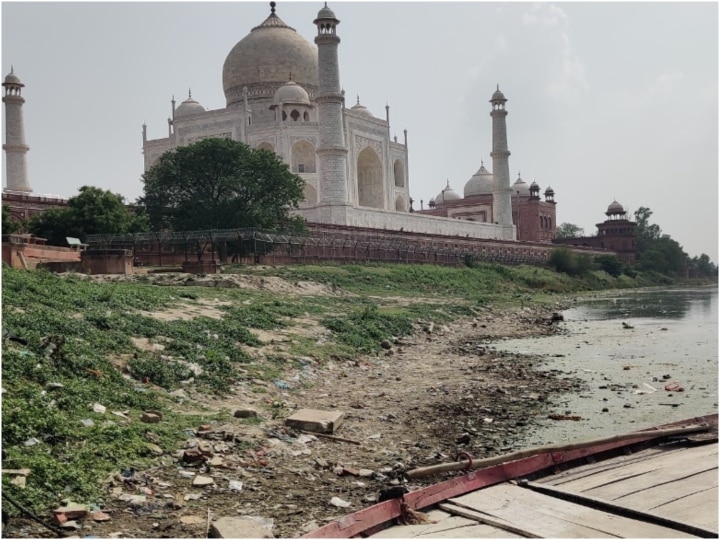 Plastic comes out of Yamuna water
At the same time, Agra Municipal Commissioner Nikhil Funde says that the picture that has been tweeted is from a few days ago. However, when the water recedes, the plastic comes to the banks of the Yamuna. The Municipal Commissioner says that two organizations are associated with us so that the area near the Taj can become a completely plastic free zone. We have made such points at 12 places where plastic is being collected.