Alwar News: For the last few days, disputes in the name of religion have been seen in many parts of the country. Somewhere, two communities came face to face to put up religious flags, and somewhere politics is being seen in the name of offering Hanuman Chalisa and Namaz. In Rajasthan too many such cases have come to the fore. Meanwhile the state Alwar An example of Hindu-Muslim unity and harmony has been seen in Ramgarh (Alwar). In fact, in Mavkheda village, there was a marriage of the daughter of a Hindu family, whose parents were not present and even if the maternal uncle did not reach, then the people of Muslim society performed the ritual of rice.
Chanda's marriage was scheduled to take place in Mavkheda village on Monday. Chanda's grandfather Sukhram Jatav had to bear the responsibility of making his hands yellow. According to the custom, the ritual of rice was to be performed. Somehow, the information about ensuring the marriage of this daughter without parents reached the Anjuman Education Committee, Ramgarh. After this, under the leadership of the committee's chairman Nasru Khan, people of Muslim society reached Chanda's house to fill rice and this ritual was performed.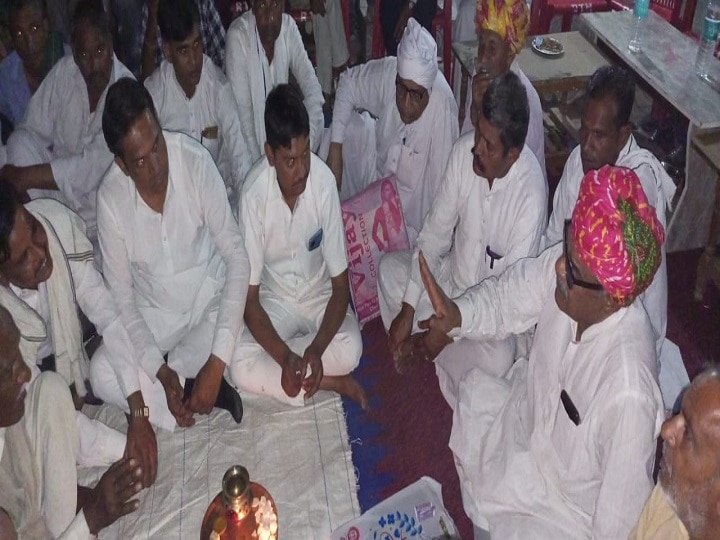 There was despair in the family
Ramgarh has always been known for religious fanaticism. There this matter has come to the fore as an example of Hindu-Muslim harmony. Before the procession arrived, the eyes of the daughter's family lit up after seeing dozens of people from the Muslim society who had come to the door to fill rice. The people of Muslim society, who came to fill the rice in a complete Hindu manner, were welcomed at the door like sisters by the women by applying tilak. In the form of rice, 22,400 rupees in cash and goods were also guarded by the Muslims according to the complete Hindu rituals. Before this, no one was going to come from the maternal side of Chanda, due to which his grandfather Sukhram Jatav and family were disappointed, but the people who came in the form of maternal uncle offered the ritual of rice to the Muslim community.
Dada had raised money for marriage by doing labor
Villagers told that Chanda's father had died a long time ago, after that the mother also went somewhere. Grandfather Sukhram raised Chanda and his brother. He was arranging for the marriage of granddaughter Chanda with the capital raised by wages. During this, the help of the people of Muslim society in the ritual of rice was also important for Sukhram. Muslim society including Anjuman Education Committee President Ramgarh Pradhan Nasru Khan, Shaukat Sarpanch Banjirka, Razzaq Khan Sarpanch, Gurbaksh, Komal Sarpanch Alavada, Ram Khiladi Meena, Dr. Islam Khan, Pappu Khan, Sappu Khan, Majlis Khan and Harish Kumar during the filling Many people were present.
read this also-