Gujarat Congress Leader Hardik Patel Resigns From Party Attacks Congress Over Article 370 Ram Mandir And CAA NRC Letter To Sonia Gandhi
Hardik Patel Resigns: Gujarat State President Hardik Patel has finally...
Hardik Patel Resigns: Gujarat State President Hardik Patel has finally resigned amid reports of continuous displeasure with the Congress. He himself gave this information on Twitter. But with this tweet, Patel has also posted his letter to Sonia Gandhi. In which he has fiercely targeted the Congress and expressed his displeasure.
Article 370, Congress party became a hindrance in Ram temple – Patel
Targeting the Congress, Hardik Patel has written that, the politics of the party has been limited to only opposition. Not only this, Hardik has also mentioned CAA-NRC and Article 370 in his letter. He wrote, the country does not need a protest, but an alternative that thinks about their future. Be it the temple of Shri Ram in Ayodhya, the issue of CAA-NRC, the removal of Article 370 from Jammu and Kashmir or the implementation of GST, the country wanted a solution to them for a long time and the Congress party is working to become a hindrance in this. kept doing it.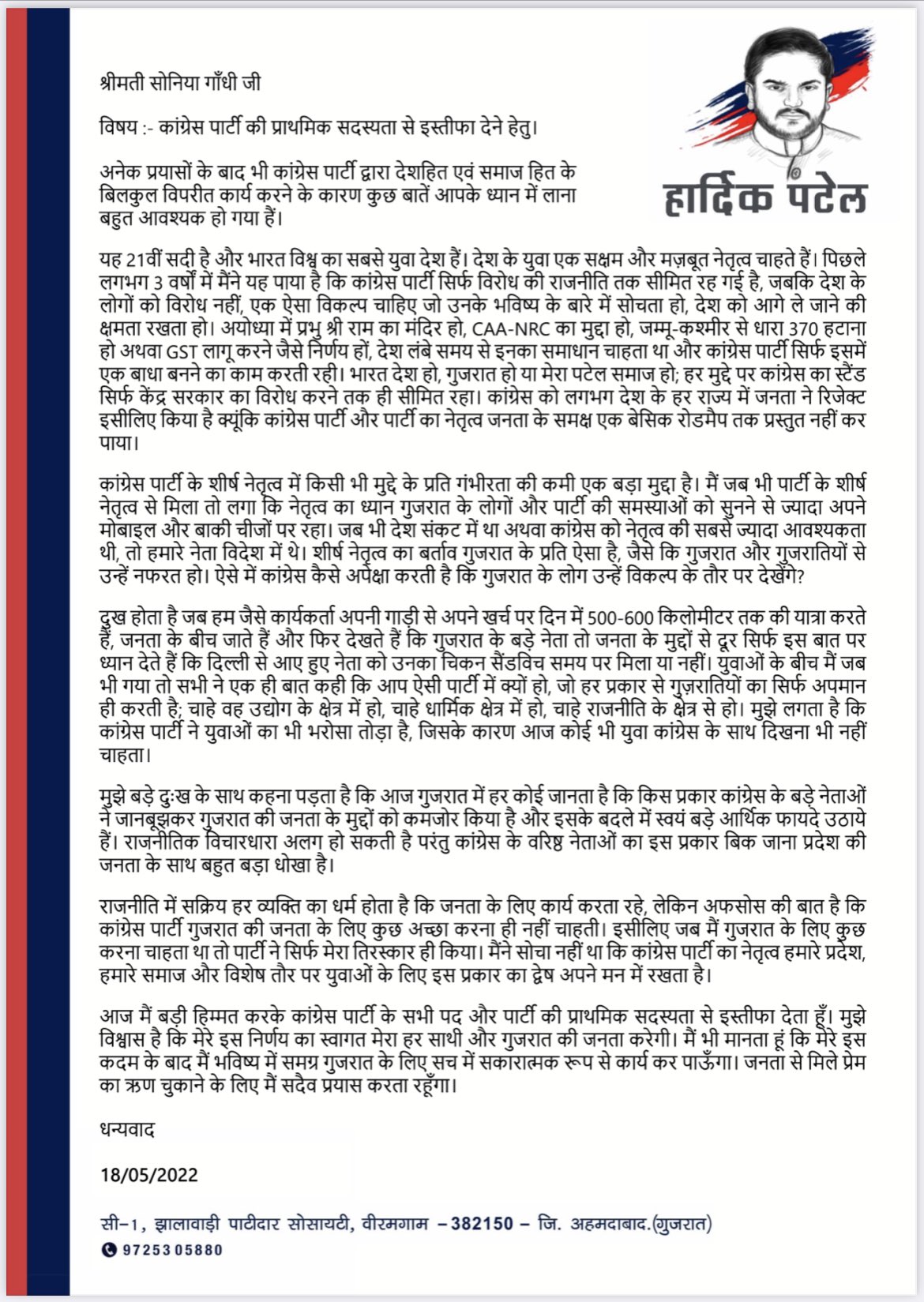 Direct target on Rahul-Sonia
Directly questioning the Congress leadership, Hardik Patel wrote in his letter that, the lack of seriousness towards any issue in the top leadership of the Congress party is a big issue. Whenever I met the top leadership of the party, it seemed that their attention was more on their mobile and other things than listening to the problems of the people of Gujarat. Whenever the country was in trouble, or the Congress needed leadership, our leaders were abroad. The behavior of the top leadership towards the people is such that they hate Gujarat and Gujaratis. So how does the Congress expect the people of Gujarat to see him as an alternative?