Madhya Pradesh Ruckus In The Marriage Process Of Dalit In Rajgarh, Know In Details Ann
Madhya Pradesh Stone Pelting in Dalit Marriage Process: In Rajgarh,...
Madhya Pradesh Stone Pelting in Dalit Marriage Process: In Rajgarh, Madhya Pradesh, for the second time in a week, there has been an incident of stone pelting on a Dalit procession. Earlier in Pipliya Kalan, Dabangs had wreaked havoc on the Dalits. Now last night, people of particular religion attacked the procession of Dalit groom in Jirapur Mataji locality of Rajgarh district. The rioters also pelted stones fiercely while fighting for getting the band and drums stopped. In the stone pelting, 4 baraatis of Dalit society have also been badly injured. As soon as the information about the incident was received, the Zirapur police reached the spot, after which the accused fled. On the complaint of the victim, the police have registered a named case against 6 people, while the names of 2 others have also been included. The entire incident has been captured in the CCTV camera.
Drums and bands were stopped
According to information received from police station in-charge Prabhat Gaur, the marriage of Anju, the daughter of Madanlal Malviya, who lived in Mataji locality of Jirapur, was. On Tuesday, the bridegroom Lucky Chauhan's procession from Susner in Agar district had come to Zirapur. Where around 12 o'clock in the night the procession of the bridegroom and the procession riding on a mare was going out. Madanlal Malviya's family was standing outside the house to welcome the procession. The procession was at some distance from the house where the baraatis were dancing. In the meantime, when the procession came out in front of the mosque located in Mataji locality, some people stopped the drums and bands of the procession. People said that the band and drum are not allowed to be played in front of the mosque.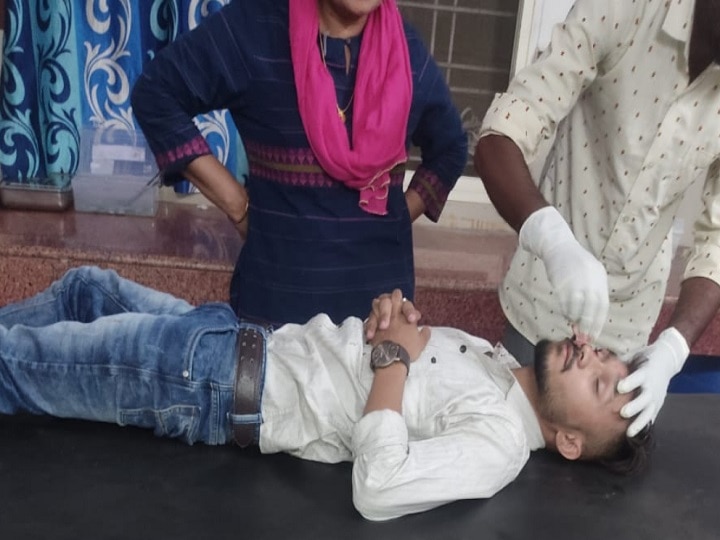 absconding accused
With the band and the drum, the procession reached in front of the Mataji temple, where people of the particular community created a ruckus on playing the drum and beat the young man with the drum, after which there was a ruckus. Some miscreants of a particular religion started pelting stones in the procession, in which 4 processions were seriously injured. The injured have been admitted to Zirapur Hospital for treatment. Police immediately reached the spot on the information of the uproar but by then the accused had fled.
guests running away without eating
On the complaint of the complainant, the police took 6 people into custody after registering a named case. On the basis of CCTV footage, the names of 2 people have been extended. Stone pelting and uproar spoiled the happiness of Madanlal Malviya's house. The guests who came to the wedding ran away without eating food, due to which the food got spoiled. Madanlal married his daughter with a few people.
read this also:
Durg: After taking crores of rupees, there was a settlement in the dowry case, then the girl's side did this scandal
The fire of Silger movement is smoldering in Chhattisgarh, thousands of people gathered once again to demand justice