Manoj Tiwari In MCD Election Talk Slams AAP Saying Arvind Kejriwal Thinks Delhi People Are Just Like Garbage
Manoj Tiwari Slams Arvind Kejriwal: Delhi Municipal Corporation elections (MCD...
Manoj Tiwari Slams Arvind Kejriwal: Delhi Municipal Corporation elections (MCD Election 2022) are also to be held around Gujarat Assembly Election 2022. Voting for MCD elections will be held on December 4. There is less than three weeks left in this. In view of this, the politics in the national capital (Delhi) has become very hot. BJP MP and former Delhi President of the party Manoj Tiwari in ABP News's special program 'Dilliwale Auto Raja', started to sense the election mood and to feel the pulse of the public. ) said that the Aam Aadmi Party (AAP) considers the public as garbage.
He also answered the question of dissatisfaction among the workers regarding ticket distribution. In fact, strange cases are coming to the fore regarding the ticket distribution of parties for the MCD elections. On Sunday (November 13), former nominated AAP councilor Habib-al-Hasan created a ruckus by climbing a tower in Gandhinagar of Shahdara district after being denied ticket. Even in BJP, many people are said to be angry for not getting tickets. On a question related to this, Manoj Tiwari said that climbing a tree-pole gives only a small ticket, climbing a tree, threatening to kill it should not be done.
'We Old Autowale'
After riding in an auto in the program 'Dilli Wale Auto Raja', Manoj Tiwari said, "We are very old auto drivers. When we lived in Mumbai, six autos used to be taken home from the airport. All our fans used to say that we have to ride in an auto.
News Reels
Disposing of garbage like this
On the question related to the garbage politics happening in Delhi, Tiwari said, "We have not hidden the issue of garbage in the BJP's song. We have reduced it by 65 percent and have also told him. There used to be 412 dalav houses at the garbage intersections, they have been removed. Now the library has started to be built there. We don't hide it.
Manoj Tiwari also met a woman candidate of the party during the auto trip. During this, he said, "This smile is not for getting a ticket, this smile is for serving the public." Manoj Tiwari was seen saying to a worker on the way ahead of the auto, "Your hard work has taken a long time." I am watching, soon we will reward you." On the question of inflation, Manoj Tiwari said, "We have controlled inflation a lot compared to the whole world. You go to Singapore, petrol is Rs 225 a litre. According to the situation of the world scenario, there is a lot of control in India.
Manoj Tiwari's target on Kejriwal
A post in a social media campaign run by AAP Aadmi Party showed a dustbin to some BJP leaders including Manoj Tiwari. When questioned on this, BJP MP Tiwari said, "Arvind Kejriwal considers humans as garbage. Human beings are garbage in the eyes of Arvind Kejriwal. The photo you are showing, if it has been made by Arvind Kejriwal, then he has expressed his inner thoughts that for him the people of Delhi are garbage. If they didn't consider humans as garbage, they would have done something about their guarantees today. He said that we will take a dip in Yamuna ji after cleaning it in five years, said in 2015.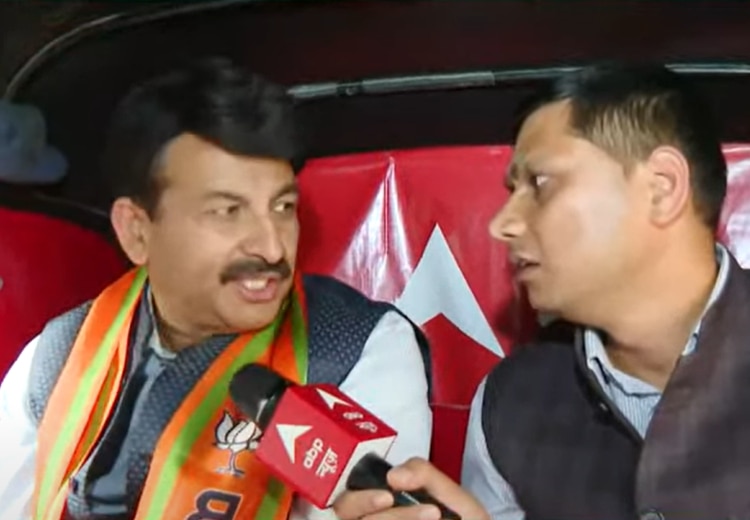 Continuing the attack on the Aam Aadmi Party, Manoj Tiwari further said, "Those who have become the enemy of the breath of the people of Delhi, you tell me, for what sin should the people of Delhi bear the punishment of becoming a gas chamber." Earlier you used to say that stubble is burning there in Punjab, now Arvind Kejriwal is also in Punjab.
Attack on AAP over stubble
The BJP MP said, "We just said in two months, you had six months time, you are running on TV that see, we have extracted medicine for stubble. Then why was the stubble of the farmers not bought?" Food grains are bought every year, so why would they buy stubble as soon as grains are bought and as soon as the farmer gets the money for the stubble, why would he burn it?
Tiwari said, "We are farmers of 250 bighas, we don't have machines for harvesting, when a man cuts, he cuts from the very bottom. Now harvesting is being done by machines in Punjab, so the entire stalk of the crop remains lying. If the government buys it then why should the farmer be forced to burn it.
Manoj Tiwari attacked AAP with poetry
Meanwhile, the BJP MP targeted the Aam Aadmi Party through poetry. Tiwari said, "Even if we believed your promise and waited for more years than the time given by you, you still do not rid Delhi of pollution and show the people of Delhi as garbage." '
Manoj Tiwari said, "We are calling Arvind Kejriwal 'ji', he says that Delhi belongs to Manoj Tiwari's father?" Arey, why do you go to the father? We always say 'G' to Arvind Kejriwal, 'G' to Manish Sisodia as well, we don't violate these protocols.
Manoj Tiwari said this on the excise scam
When asked about Delhi's alleged excise scam case, Manoj Tiwari said, "If you open a liquor shop in front of a school, in front of a temple, in front of a mosque, in front of a church, in front of a temple, it was better that in the MCD." It was the BJP that started sealing everything, started stopping it, otherwise they were busy making Delhi a liquor city in every street. When this BJP was in Delhi, Delhi was saved.
Due to Gujarat assembly elections and Delhi MCD elections being held together, BJP is being accused that it has got the elections held at such times through the Election Commission. On this allegation, Manoj Tiwari said, "Elections in many states are held only once, BJP has followed it. What a huge relief it is for Delhi, which is lying down in Delhi.
Where is AAP in MCD elections?
Targeting AAP, Manoj Tiwari said, "Even when they were fighting in 2017, they won 67 out of 70 seats. Why didn't Delhi bless him for MCD? Now it has become even less than that, they are slowly on the decline. I am talking about the people of the auto sitting in the auto. Autos are expensive in Delhi." When Manoj Tiwari was asked whether Kejriwal ji eats the money of autos in Delhi? He replied, "Yes."
Also read- Gujarat Elections: 15 percent tribals in Gujarat can change the political picture, know who the community is more inclined towards