Municipality Of Dhamtari Chhattisgarh Suspend Clerk For Not Burning Ravana Head Show Cause Notice To Four Officers
Raipur: A Municipal Corporation clerk has been suspended for not...
Raipur: A Municipal Corporation clerk has been suspended for not burning the head of an effigy of Ravana during Dussera (Dusserha2022) celebrations in Dhamtari district of Chhattisgarh on Wednesday. Apart from this, four officers have been suspended. Show notice has been issued. Officials gave this information on Friday. He said that Dhamtari Municipal Corporation has suspended assistant grade three Rajendra Yadav due to negligence in preparing the effigy of Ravana during the celebration of Dussehra.
What is said in the order of the Corporation Commissioner
In the suspension order issued by the Commissioner of Dhamtari Municipal Corporation, it has been said, "Great negligence has been taken by Rajendra Yadav, Assistant Grade Three Municipal Corporation, Dhamtari in getting the effigy of Ravana ready for Dussehra festival. This has tarnished the image of the corporation. In view of the above reasons, they are suspended with immediate effect. During the pendency, he will be eligible for subsistence allowance as per rules.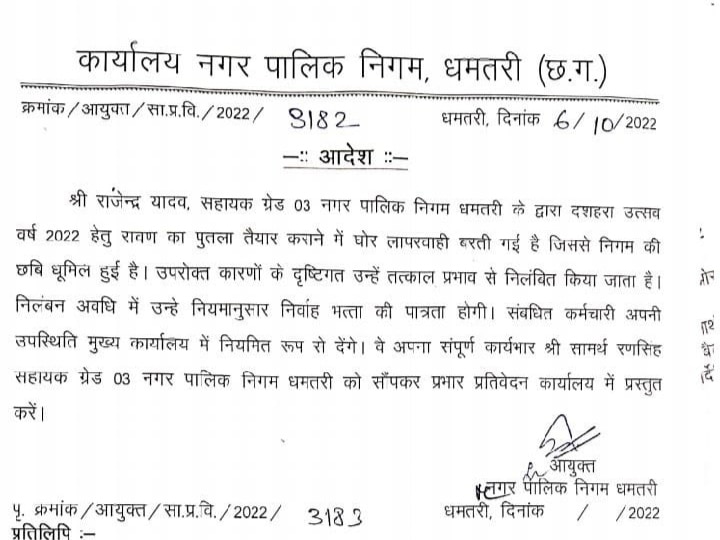 Along with this, show-cause notices have been issued to the corporation's assistant engineer Vijay Mehra and sub-engineers Lomas Devangan, Kamlesh Thakur and Kamta Nagendra. He told that the festival of Dussehra is celebrated with pomp every year in Dhamtari city. The effigy of Ravana is prepared by the municipal corporation for the main function.
Where was the effigy of Ravana burnt
On Wednesday, when Ravana's effigy was installed in the ground for the ceremony, people started making fun of him after seeing his stature and torn clothes. Not only this, many pictures and videos of the effigy were also circulated on social media. According to the officials, When the effigy of Ravana was burnt in the evening, then part of his torso got burnt within four minutes, but ten heads were left. This tarnished the image of the municipal corporation in front of the people.
Dhamtari Municipal Corporation mayor Vijay Devangan said, "Action has been taken against those who were entrusted with the construction of the effigy of Ravan. Now the payment of the amount related to the construction of the effigy will also be stopped."
read this also
Big gift of CM to the people of Chhattisgarh, country's largest millet processing plant is opening in this district, will get such benefits
Chhattisgarh Politics: Politics started on BJP meeting for Mission 2023, CM Bhupesh Baghel took a jibe