PETA Asks Ranveer Singh To Photoshoot For Them Without Clothes Says Hope You Will Ditch The Pants For Us
Ranveer Singh Nude Photoshoot: Bollywood actor Ranveer Singh did a...
Ranveer Singh Nude Photoshoot: Bollywood actor Ranveer Singh did a nude photoshoot for Paper magazine a few days back. (Ranveer Singh Nude Photoshoot) It was done on which there was a lot of ruckus. The matter reached to such an extent that a case was registered against Ranveer in some places in Mumbai and in some cities there were even protests against him. Although Ranveer remained silent during this entire controversy and he is silent till now. Now in the meantime, Ranveer has got an offer to get a nude photoshoot done again. This time this photoshoot is not for any magazine but for an organization.
People Offer The Ethical Treatment of Animals (PETA) has offered Ranveer Singh a nude photoshoot. PETA has written a letter requesting Ranveer Singh to get a nude photoshoot done for him. This letter of PETA is also becoming very viral on social media. In this letter it is written "Hope you will ditch the pants for us, too" In simple language, PETA has requested Ranveer to get the same nude photoshoot done as he did for Paper magazine.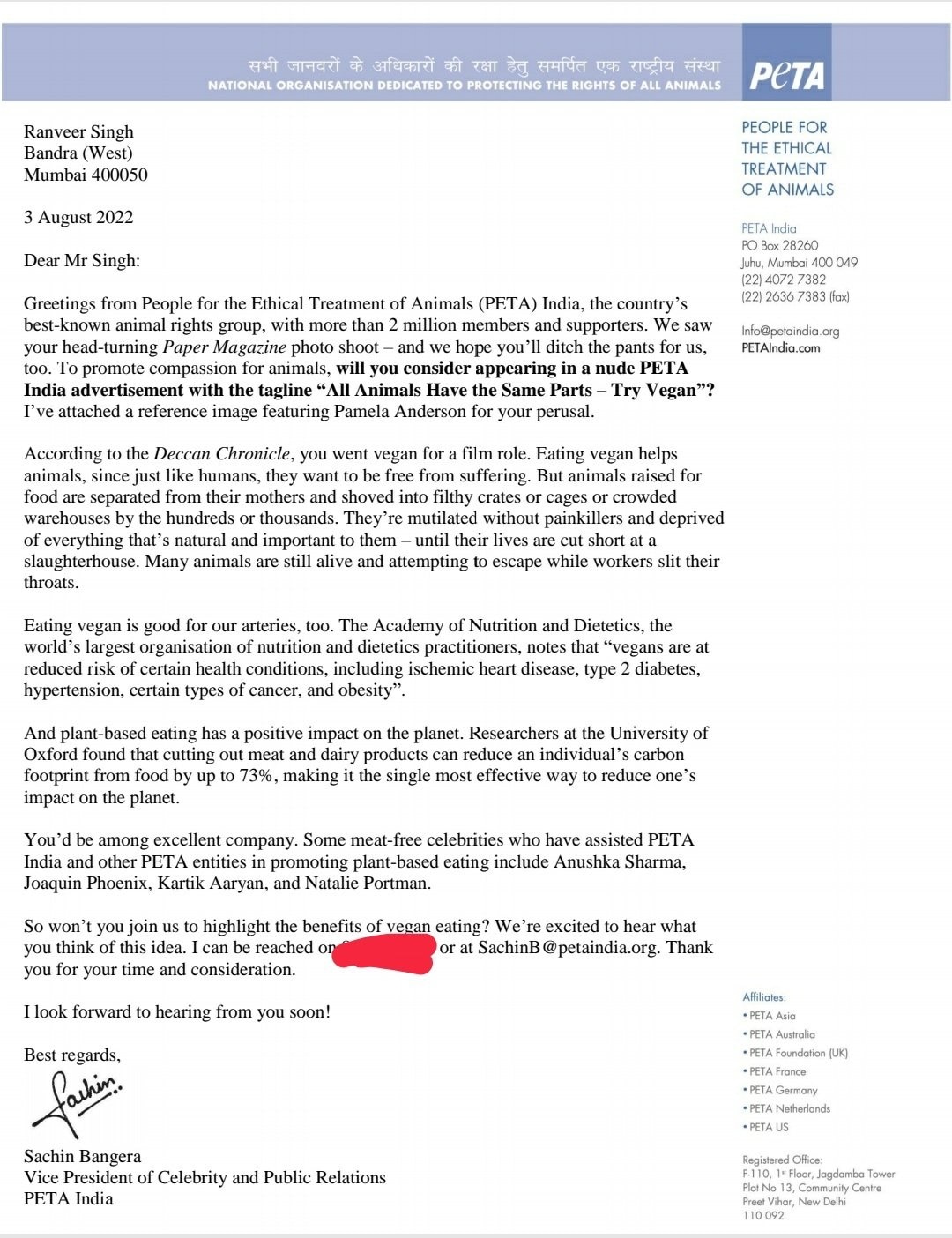 What is written in the letter…
The letter reads, "Greetings to you from PETA. We saw your photoshoot done for Paper magazine. I hope you will sacrifice your pants for us too. Would you go nude for PETA to promote love for animals? Its tagline will be 'All animals have the same parts'. For example, we have attached a photo of Pamela Anderson." Citing a news article in its letter, PETA has told how animals are taken away from their mothers and how they are kept in cages. Pain killers are given by doing. Now it has to be seen whether Ranveer will be nude once again for PETA this time?
When Dhirubhai came forward to help Amitabh Bachchan, who was suffering from lack of money, Mukesh Ambani cried after hearing the whole story.
Akshay Kumar On His House: Because of Sunny Deol, Akshay Kumar was able to buy his house in Mumbai, when it was revealed, everyone was shocked