Rajasthan Lumpy Virus Over 1.5 Lakh Cattle Infected With Lumpy Virus And 7964 Died In Rajasthan Ann
Lumpy Virus in Rajasthan: In the country where Coronavirus is...
Lumpy Virus in Rajasthan: In the country where Coronavirus is still taking human lives on one side. At the same time, animals are dying in Rajasthan due to the lumpy virus that came from Africa. Every other cow is infected with this virus and deaths are also taking place. In the state, 1,58,075 animals are infected with the lumpi virus. Of these, 1,28,828 were treated, out of which 53,644 animals have recovered. At the same time, according to government figures, 7,964 animals have died.
Lumpi virus has killed 949 animals in Jodhpur, 1812 in Barmer, 1663 in Ganganagar, 1089 in Nagaur, 816 in Bikaner, 858 in Jalore. Terrible conditions are prevailing due to lumpi virus and cows are dying in agony. In such a situation, the death toll can be even higher. Dr. Ravi Israni, Joint Director of State Disease Diagnostic Center Veterinary, while talking to ABP News said that its vaccine is going to come in the market soon. Lumpy virus infection was first spread in sheep and goats, then now it is spreading in cows and buffaloes.
'Lumpy is a virus of the Capripox family'
He said that the infection of lumpi virus is spreading in most of the cows and death is also taking place. Lumpy virus is a virus of the capripox family. Like goat pox and ship pox, it is spreading in animals in the name of lumpy skin disease. In view of the increasing disease in animals in Jodhpur division, Dr. Israni has been sent from Jaipur to Jodhpur at present. Dr. Israni said, "This disease causes knots to form on the animal's body and when flies and mosquitoes sit on it, they transfer this disease to other healthy animals."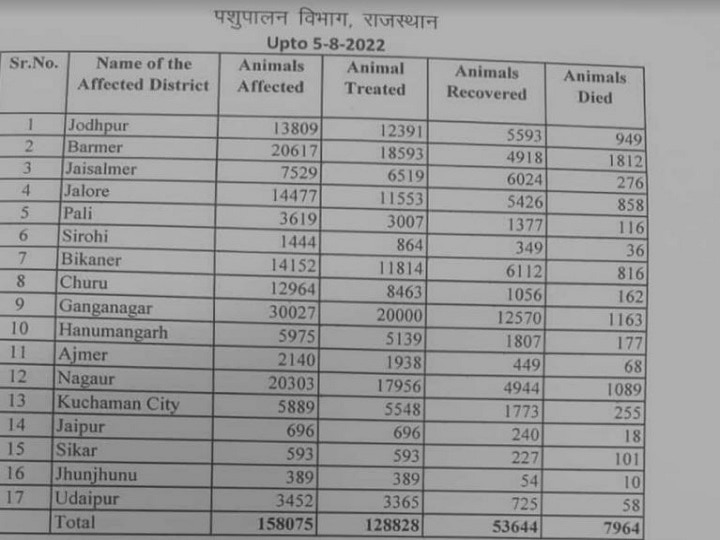 Lumpy virus spread rapidly in animals in last 10 days
Dr. Ravi Israni said, "Wherever it is necessary to do postmortem, it has been seen that as the disease progresses, the intestines of the animal spread to the lungs." Animal samples were sent to Bhopal, IVRI, National Research Center on Equines, Hisar, from where lumpy skin has been confirmed. In Rajasthan, the case of lumpi virus came to the fore in the month of April. In the last 10 days, it has spread very fast in animals. One lakh animals are suffering from this disease in 16 districts of western Rajasthan.
MLA Manisha Panwar said to build an isolation center
He said that the effect of this virus has been seen in most of the cows. Animals are dying due to this disease in Jodhpur, Barmer, Jaisalmer, Jalore, Pali, Sirohi, Bikaner, Churu, Ganganagar, Hanumangarh, Ajmer, Nagaur, Sikar, Jhunjhunu and Udaipur. Jodhpur city MLA Manisha Panwar also visited rural areas including veterinary hospital regarding lumpy skin disease spread in cows. Along with this, after meeting with the officials, he talked about making isolation centers in every panchayat area regarding this infection spread in cows, so that this infection does not spread further.