Richa Chadha Allegedly Mocks Indian Army BJP Leader Manjinder Singh Sirsa Demands Action From Police
Richa Chadha Allegedly Mocks Indian Army: Bollywood actress Richa Chadha...
Richa Chadha Allegedly Mocks Indian Army: Bollywood actress Richa Chadha has made fun of the army on the alleged tax by tweeting a statement by Lieutenant General Upendra Dwivedi, the head of the Northern Command of the Indian Army. She is being criticized on the tweet of the actress.
Bharatiya Janata Party leader Manjinder Singh Sirsa has demanded Mumbai Police to take action against Richa Chadha, as well as terming her as third grade artist, Congress supporter and worshiper of Rahul Gandhi.
Richa Chadha's tweet
Sharing a tweet from a Twitter account named Baba Banaras, actress Richa Chadha wrote, "Galwan says hi." In the tweet she shared, Lieutenant General Upendra Dwivedi, the head of the Northern Command of the Indian Army, It was quoted as saying, "We are fully prepared to take back PoK from Pakistan. We are waiting for orders from the government. We will complete the operation soon. Before that, if Pakistan is violating the ceasefire, then the answer will be something else, which they cannot even imagine.
News Reels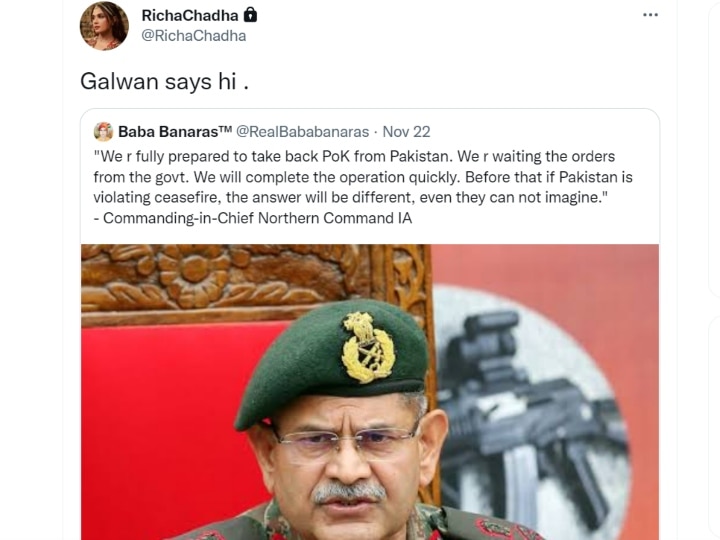 Manjinder Singh Sirsa targets Chadha
BJP leader Manjinder Singh Sirsa first shared Chadha's tweet and wrote, "Shameful tweet. It should be withdrawn as soon as possible. Insulting our armed forces is not appropriate." After this, on Thursday (November 24), Sirsa targeted Richa Chadha while tweeting a video message. BJP leader Sirsa said in the video message, "Richa Chadha is a third graded artist of Bollywood and she is always at the forefront of making objectionable tweets against India and is a supporter of Congress, a worshiper of Rahul Gandhi, such Richa Chadha again." Has done the work of humiliating the Indian Army once.
Sirsa further said in the video message
Sirsa further said, "When the northern commander of the army was asked what is your strategy regarding PoK?" He only said that whenever we have orders, we can attack Pakistan Occupied Kashmir and bring it back with us. In such a situation, Richa Chadha insults the Indian Army, mocks them and tells them to remember Galvan, Gallan is also a glorious history of India. 20 of our soldiers were definitely martyred but we gave a befitting reply to China and out of that one Sikh soldier tried to eliminate more than a dozen people of the Chinese army by killing them only with his bare hands. In this way, you make derogatory comments towards those martyrs, make derogatory comments on the Indian Army, I want to tell the police of Mumbai to immediately take action against this Richa Chadha, file a case in the above sections so that such people who insult India, They enjoy insulting the Indian Army and try to bring down our Indian Army to increase their fame, they can be given a befitting reply, they cannot try again in this life.
3rd grade Bollywood actresses like Richa Chadha are insulting the Indian Army for a cheap publicity stunt@RichaChadha She is a worshiper of Congress and Rahul Gandhi, so her anti-India thinking is clearly visible in this tweet.
I @MumbaiPolice demand legal action against them@ANI https://t.co/eetOjHrDor pic.twitter.com/uXPcj3gGwE

— Manjinder Singh Sirsa (@mssirsa) November 24, 2022
What did Lieutenant General Upendra Dwivedi say?
Let us tell you that on Tuesday (November 22) when the Chief of the Army's Northern Command, Lieutenant General Upendra Dwivedi was questioned regarding PoK, he said, "The parliamentary resolution already exists on this subject, so anything new." No, it is part of the parliamentary resolution. As far as the Indian Army is concerned, the Indian Army will obey any order given by the government and we will always be ready for it whenever such orders are given.
Also read- Exclusive: Talking in loud voice, overconfident and arrogant behavior… Doctor revealed the secret about Aftab who went for treatment after Shraddha's murder