Songs from Hindi films from which we learned chasing a girl, she finally agrees
remove this curtainshow me your facewe loveThere is no non......
remove this curtain
show me your face
we love
There is no non…
In the year 1969, a film was released 'Ek Phool Do Mali', whose song was well-liked. Throughout the song, the hero follows the heroine, asking her to show his face. The girl flaunts… she refuses again and again. But till the end of the song, the heroine falls in love with the hero even though she does not. Meaning it is clear that girls generally refuse at first… but later they agree. As a viewer, we start feeling very 'happy' to watch this scene. It is very common to show this kind of love story in Bollywood songs. But in real life, will anyone tolerate this kind of action that takes place at a common square and intersection?
Hindi cinema has a history of almost 100 years in India. The record of making the most number of films in the world is also the name of India, but even after so many years of history and thousands of films, when you look at Bollywood songs, you will not see much difference. There is no dearth of sexist and misogynist songs in the Hindi film industry. The biggest example of this is the lyrics of the song of the film Liger, which is releasing tomorrow i.e. on 25 August 2022. A song by Liger, Aafat, has been in controversy since its release. It is facing critics due to dialogues like 'God ke liye mujhe ko' and 'Jawaani teri afat' in the song.
In the year 1968, there was a superhit film 'Haseena Maan Jayegi', one of its songs started being heard in every household. The lyrics of that song were ' Kab tak ruthegi cheekegi chilayegi, dil kehta hai ek din haseena maan jayegi…'. Apart from this, come sit in my car, give me a kiss, tell me your name with a red scarf. Like there are many such songs in which by falling behind the heroine and forcing her, her 'no' turns into 'yes'.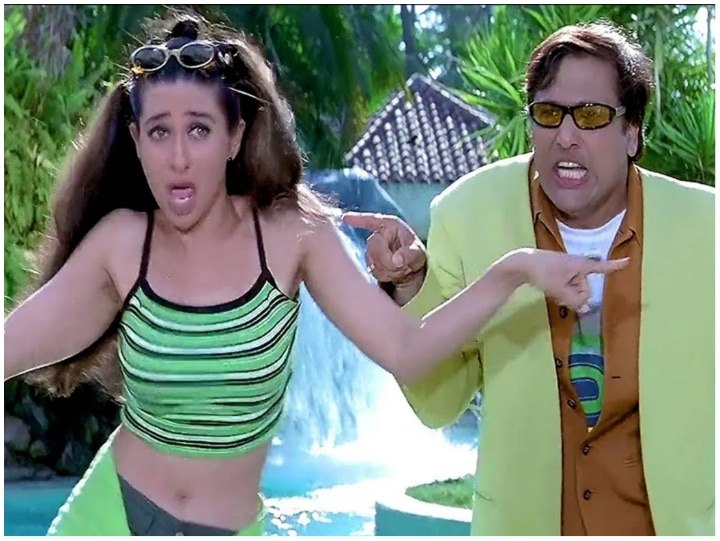 Who would know better than the writers of our Hindi films, the skill of objectification and normalizing sexism of women. In a society created by men, a phrase was coined by men only, which is on everyone's tongue for years. That phrase is – girl's na bhi bhi chuppi hai….. Bollywood took this idiom made by itself seriously and wrote hundreds of songs and film dialogues one after the other in which consent of women is not important. .
Music is a part of people's life
Hindi cinema and music have become an integral part of people's lives. Be it the expression of love or the sorrow of separation. People have been expressing their feelings through film songs. The music of Indian cinema has experimented in every decade. Some of these experiments gave rise to songs like 'Pyaar Hua Ikraar Hua' and some gave rise to item numbers like 'Jumma Chumma'. Although there are songs for every emotion, but the emotion that made a place in the hearts of the youth the most is the songs depicting the 'romance between lover and girlfriend'. Amidst all this, the sad part is that most of the romantic songs of Bollywood are promoting sexist ideas.
These misogynistic songs are so well packed with bouncy beats, trending artists, glamorous costumes, popular celebrities, groovy choreography and a huge video set that they make it easy to make molestation door-to-door. become successful. However, it would not be right to say that such songs are being used deliberately to save patriarchy and gender discrimination. But it is very important to note that music is the mirror of any society and the cultural values ​​of the society are manifested in music in a rhythmic way. In such a situation, such songs justify eve-teasing, discrimination, molestation, objectification and molestation.
It is not new that despite being a huge hit, the songs of the film Liger, which released on August 25 or many Bollywood songs, have been accused of showing women as objects or objects of consumption. The debate is hot on the matter that if such songs objectify women, then how does it affect the society.
not love to chase
Ritika Singh, managing editor of FII, who raised feminist issues in her writing, said that if we talk about objectification, then the entire film industry is its victim. A big problem with Bollywood is that from molesting a girl to forcibly kissing, not taking anyone's consent, it has always been shown as love. You do yes or no you are mine, I will not give up on you because I love you. He said that women have always been kept in the side role in films, although now things are changing. Now many women centric films are being made in Bollywood. Which people are also liking. But a couple of examples don't change things. Right now it will take a long time for Bollywood to change and for women to get a stronger character
Meena Kotwal, who wrote vocally on the rights of women, said that in almost all the songs of Hindi cinema, the heroine is shown in a beautiful and sensuous manner. And even after so many years, her identity and character have remained confined to beauty. He said that there has also been a tradition in Hindi films to show women as cultured home. While on one hand women are presented as objects in the name of item songs, on the other hand they are portrayed as Sati Savitri and domestic girl.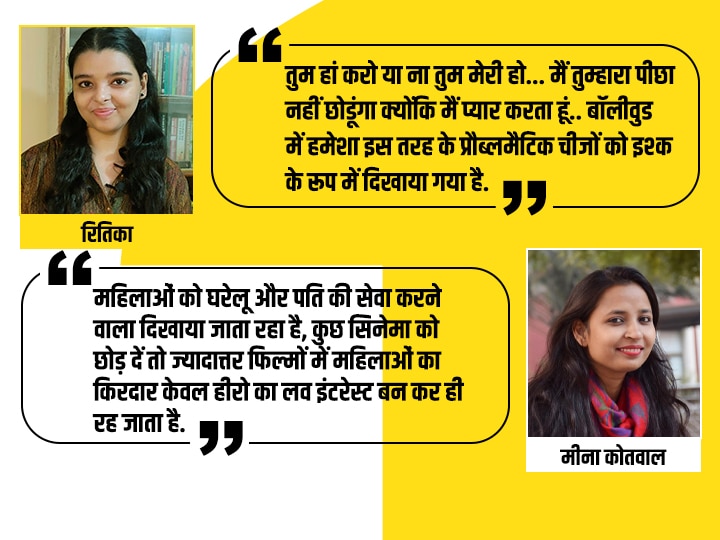 effect of words on thinking
Swarna, who has her opinion on every issue on social media, said, "There was a film of Shahid Kapoor in which the song had hair.. Ab Karoonga Tere Saath.. Gandi Baat.. Such songs are leaving a deep impact on the youth of the society People think that when these words can be used in a song then it is not wrong to say such things in common life also. But our society has to understand that if someone's body is beautiful then who are we to say it? Sa shabd chhunenge, it matters a lot. The kind of sexist songs being written in Bollywood need to change. We should stop looking at women from the eyes of men."
Women trapped in traditional and domestic stereotypes
Talking about the beginning of Hindi films, in the first film Raja Harishchandra, a man played the female lead role. At that time it was not considered good for women to appear in films. But time passed and due to the cultural movement of Bharatiya Jana Natya Sangh (IPTA) which started in the forties, the perception of the common educated people about cinema and women's entry into this genre changed a bit. Although women came on screen but remained trapped in a stereotype. From the very beginning in Bollywood, women were presented in a very traditional and domestic form. Or else she was only shown as the actor's love interest in the film.
What do the lyrics of these songs say
In the 20th decade, there were many such films which were super hit on the film screen, but the molestation done with women in those films, in simple words, molesting without consent has been shown as love. The lyrics of this song show that if a man falls in love with a woman, then he has a right over her and if that man forcibly blocks her way, then that woman should not be shocked. Looks like that girl is his property…
"Yes you are right mine
you are my delight
stop your way
not to be surprised
I'll be with you now
Dirty thing..
It can be guessed from the lyrics of this song that the consent of the woman does not matter. Even if he has rejected the man, he will forcefully talk dirty talk to him. This Bollywood song is a perfect example of aggressive masculinity. Surprisingly, the song made its way to Radio Mirchi's Top 20 Songs of 2013.
i am tandoori chicken man
gatkale saiyan with alcohol
People say me, I am salty butter
I will cut my heart, my youth is cutter
Whoever sees my light, may become a fan
Close the shutter of your nano